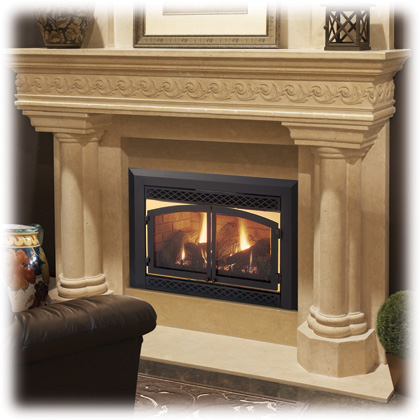 Let's face it, this has been a long, cold winter. Many of you may think it is too late to do anything about your home heating. Not true. It is never too late to be thinking about how to heat your home more efficiently. Do you heat with oil or propane? If so, you should be thinking a lot about a better way to heat. If you have natural gas in your house already, a great option is to convert a wood burning fireplace to gas. By adding a gas fireplace insert to your home, you not only make your home more beautiful, but you make it more efficient too. You will reduce the price of your oil bill and you will have an easy-to-use, beautiful fire.
A new gas fireplace insert is almost always more efficient to run than your existing furnace, this makes heating your home with gas more cost effective. If you have an open wood fireplace, adding a fireplace insert makes your fireplace more efficient too. If your home already has natural gas, you are already halfway there.
For today's busy lifestyles, many homeowners who are considering adding a wood burning fireplace insert realize that gas will fit their lifestyles better. No stacking, cutting or hauling wood; no mess and no dust. With a gas insert you push a button and the fire is lit with an automatic igniter switch. Gas inserts can also be controlled with a thermostat, so you can have more consistent heat.
Natural Gas is actually the least expensive heating fuel, and there is no work involved. Another benefit to a natural gas fireplace insert is that you can turn it on at any time of year with no hassle. So on those chilly May and June evenings, you don't have to go outside and get wood to start a fire, and you don't have to turn the heat back on. Just push the button and enjoy your natural looking gas fire.
No gas in your home, but there is gas on your street? No problem. Call your gas company and have them run a line for next year and avoid the rush!
For more information on gas fireplace inserts, contact West Sport in Sudbury.