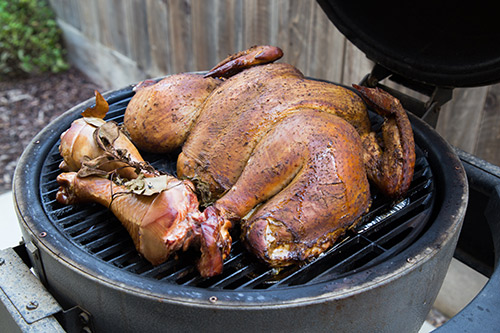 It's the perennial issue that plagues us all around the holidays: not enough oven space. Put your grill to use as secondary ovens for the holidays.
Best Use for Your Specific Grill
If you have a gas or charcoal grill, consider cooking sides like broccoli and corn outside. These dishes benefit from the grill's direct heat source and can stand a bit of char. For indirect grilled sides, like stuffed squash or sweet potato and marshmallow casseroles, use a kettle or pellet grill.
For Consistency, Go Pellet
Some types of grills offer more temperature consistency than others. Pellet grills are like outdoor ovens with an added whiff of wood smoke. So anything you would bake in an oven, from side dishes to desserts, you can cook in a pellet grill. The benefit of a pellet grill is that you basically set them and forget them. There are no flare-ups or issues with temperature consistencies.
This also makes them ideal for baking, where a steady and controlled temperature is necessary. The consistency of a pellet grill makes it ideal for baking bread, pies, and other Thanksgiving baked goods like cornbread stuffing and dinner rolls.
Consider the Smoke
Pellet grills also provide a smokey flavor to your dish, so if there are recipes in your Thanksgiving repertoire you prefer on the less-smoky side, go for a gas grill. It will impart a less smokey flavor. A gas grill's side burner can also be used to make sides like mashed potatoes, gravy, and cranberry sauce.
Take the Main Event Outside
If you've never cooked a turkey on the grill before, it can be a failsafe way to free up the oven. Plus, turkey and a smoky pellet grill are a natural pairing.
Cooking the bird outside is a good way to alleviate the stress put on the indoor oven and it offers countless options for creativity, too. In terms of cooking a bird that won't disappoint, it must be cooked over indirect heat.
Don't Discount Charcoal
Although charcoal can be a little fickle in terms of heat reliability, it also offers up exceptional smoky flavor and can be a lot of fun to cook with. Charcoal grills can be enhanced with hardwood chips and chunks, and dishes that don't require a ton of temperature stability can easily be cooked on them. Sides that are normally baked in the oven like baked squash, scalloped potatoes, and even macaroni and cheese, can benefit from a charcoal grill's smoke and won't be impacted much by temperature variation.
You're most likely going to be setting it up for indirect grilling as opposed to direct heat. This requires raking the embers to the periphery and cooking the food in the center, which helps create more precise temperatures, within about a 50-degree window. That can be fine for most casseroles and sides.
Looking for a new grill for your Thanksgiving dinner? For more information, contact The Fireplace Shop and Grill Center at West Sport in Sudbury.
Source: yahoo.com