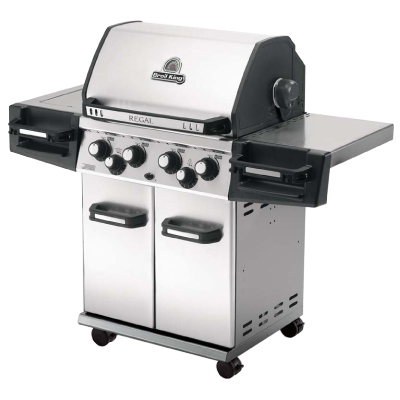 Burgers, brats and dogs are just as much of a staple of summer as water and sun tan lotion. This means, you may be in the market for a new grill in the coming weeks -- whether it's your first charcoal grill or an upgrade to a deluxe gas grill.
There are a few important questions every shopper should ask before they purchase a grill.
How often am I going to use it? How many people am I going to cook for? How long do I want it to last? The answers to these will help you decide on the price range you should spend.
Let's take a look at how gas, charcoal and alternative models stack up against each other.
GAS: Gas grills are considered the luxury cars of the grill market. They're durable, full of features and come in several sizes. However, they also cost more to purchase and maintain.
The big upside to gas models, of course, is convenience. Unlike their counterparts that require coals or wood chips to heat, gas grills have gained popularity because they're ready to cook in less than 10 minutes.
A gas grill also makes it easy to regulate the heat and to cook at several different temperatures at the same time. They offer greater versatility, allowing you to cook burgers and vegetables and heat buns at the same time without burning any of them.The more burners a grill has, the more cooking flexibility you'll enjoy.
Gas grills come in various sizes, too. Grills with small footprints are ideal for a terrace or townhouse. If you have the space (and the money), look for a 30-inch, 42-inch or even bigger stainless-steel model. These usually offer add-on modules or appliances like wet bars, refrigerators, wine coolers, sear stations and more.
Gas grills require thorough and prompt cleaning as they have delicate parts that must be replaced and maintained to ensure longevity.
CHARCOAL: If you ask any number of chefs and professional BBQer's whether they would choose a gas or charcoal grill, their pick would be charcoal every time. Although gas grill enthusiasts claim there is no difference, they'll say the charcoal choice lies in the taste.
Not only do charcoal models provide great flavor, but they're generally easier on the wallet, too.
A charcoal grill lasts forever. There's no maintenance or anything, you just get some new charcoal and put it in there. Cleaning involves little more than scrubbing the grate and dumping the ashes.
The downside: Charcoal grills require a lot of time and patience because the coals take longer to heat.
Those who try to speed up the process with lighter fluid often eat meats that -- believe it or not -- taste like flammable chemicals. Mr. Lampe recommends lump charcoal, which lights much faster than traditional charcoal briquettes.
Indirect cooking is also far more difficult on a charcoal grill. While several burners can cook various foods at different temperatures on a gas grill, a charcoal model requires grillers to build a fire on just one side of the grill.
ALTERNATIVES: As the price of gas has risen in recent years, several grillers have turned to pellet models.
Pellet grills use small wood pellets -- in a variety of "flavors" such as hickory, mesquite and oak -- to provide the energy source and infuse the food with flavor from the resultant smoke. Pellet grills are especially attractive because they require no fuel and are energy efficient.
For more information on the best grill for you and your lifestyle, contact The Fireplace Shop and Grill Center at West Sport in Sudbury, MA.
TMCnet.com