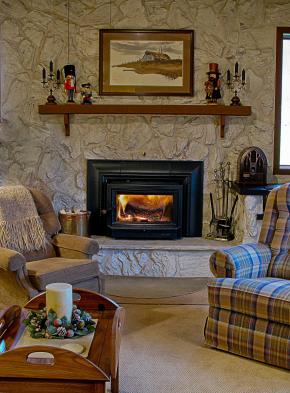 At this time of year, fireplaces are the focal point of many family gatherings, romantic interludes and relaxing spaces. Still, the typical open fireplace is not the most efficient or environmentally sensitive heating source.
To help you choose the most eco-friendly fireplace options, fireplace regulators and industry representatives have some ideas. Fireplace inserts are built into the existing hearth or stoves are free-standing. These tend to produce less pollution than standard fireplaces.
For starters, decide whether you are interested in a fireplace primarily for heating throughout the winter or for decorative purposes with a few fires a year.
The traditional open wood-burning fireplace is not a heating device like is used to be.
A decorative fireplace with gas logs and glass fireplace captures the look and feel of a fire with gas logs that look just like real wood and have the appearance of a wood burning fire. While relatively inexpensive, they don't tend to provide as much warmth as a fireplace insert or free-standing stove.
For more serious heat consider fireplace inserts or stoves that use wood or gas. These generally have a higher price tag and require more maintenance, but you get more heat, more versatility and lots of decorative options.
Here are a few options when seeking an eco-friendly fireplace or appliance for aesthetics rather than efficiency:
Gas logs: Gas logs can be retrofitted in an existing fireplace as an alternative to wood.
Although gas logs burn fossil fuels, either natural gas or LP, they still have low emissions.
Gas logs can be vented or vent-free. Vented logs, which operate with an open chimney flue or damper, simulate a wood-burning flame. Vent-free logs won't give you the roaring fire effect, but provide a little more heat and may have a thermostat to maintain room temperature.
Pellet stoves: Resembling rabbit food, these pellets are 3/8 of an inch to 1 inch.
The pellets are made from compressed sawdust, wood chips, bark, agricultural waste and other organic materials.
They are much more convenient to operate and have much higher combustion and heating efficiency than ordinary wood stoves or fireplaces. As a result, pellet stoves produce very little air pollution and are considered the cleanest of the solid fuel-burning residential heating appliances.
Gas stoves and gas inserts: Like with gas logs, these stoves are designed to burn either natural gas or LP. However, gas stoves are self-contained units, while gas logs are meant to be used in an existing fireplace.
Gas stoves emit very little pollution, require little maintenance and can be installed almost anywhere in the home. Today's gas stoves can be vented through an existing chimney or direct vented through the wall behind the stove.
Gas stoves are among the cleanest and cheapest fuel options. Although they still burn fossil fuels, they produce lower emissions than wood or other alternatives.
Wood-burning stoves and inserts: Most firewood grows locally, is abundant, inexpensive and comes from harvesting dead trees. Unlike with fossil fuels, no net carbon is released into the environment when wood is burned because the same gases are given off when the tree decomposes.
Wood stoves are capable of heating an entire house, as long as it's well constructed with enough insulation. The drawback to burning wood is you have to empty the ashes more often and to split, stock, dry and season the wood.
For more information on the right option for your home and your lifestyle, contact West Sport in Sudbury.
mnn.com