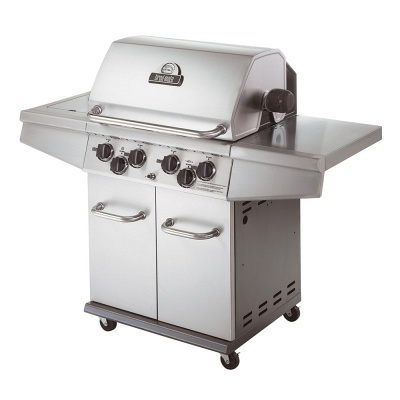 Midpriced gas grills look great in store displays, all shiny and new. That's because they're protected from the elements, grease free, and spiders haven't had a chance to take up residence in the burner tubes. Looks aside, even if you spend up to $1,000 there's no guarantee you're buying a grill that's impressive at grilling.
With the swipe of a credit card spending $450 to $1,000 can get you a small, medium, or a large gas grill that delivers impressive performance. Here's what you can expect:
Construction tends to be sturdier than less expensive models. When shopping test sturdiness by nudging the grill from different points. Inspect the cart, lid, firebox, and wheels. Grip the handle to check for clearance: You don't want your knuckles to be too close to a hot lid.
Grates should be heavy-duty stainless or cast-iron. Both are good at maintaining even temperatures and for searing. Stainless are more durable.
Fire up with an electronic igniter. Most grills in this price range have one and it's usually more convenient than one that's rotary or push button.
Features often include four wheels or casters for easy moving, a fuel gauge that reminds you it's time for a refill, and a side burner for cooking corn or simmering sauce. Check the manual to find out the side burner's weight limit. You'll want to know how heavy a pot it can hold.
Warranty on burners, the most replaced part, is typically 10 years or longer.
Choosing a Size
Measure the grill's main cooking area so you can match it to the number of people gathered around your table. Manufacturers may include racks and searing burners when tallying their measurements. Consider how much space the grill will eat up on your patio or deck.
Brand Reliability and Satisfaction
Ask your friends about their experience with a grill brand. Ask your local grill retailer about their experiences and about customer feedback. There are all kinds of online reviews as well.
For more information on buying the right gas grill for your home, contact West Sport in Sudbury.
consumerreports.org