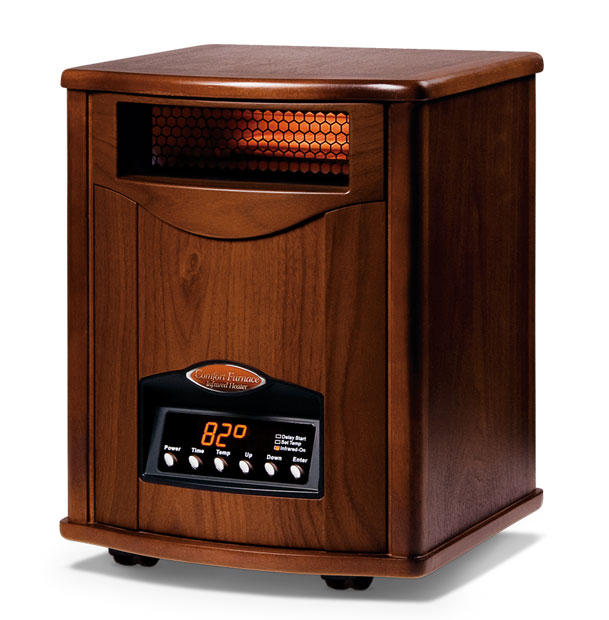 We have a gas fireplace insert in the upstairs of our home. This is also where the thermostat is located. Because the fireplace insert keeps our home so warm, the thermostat never tells the furnace to turn on. This is perfect for keeping the heating bills lower. However, not so perfect for heating our one downstairs TV room where the kids hang out with friends. Because the central heat in our home does not turn on, the basement room was never heated.
We didn't know of a good solution. So we went to The Fireplace and Grill Shop at West Sport in Sudbury for advice about a solution. The suggested the Comfort Furnace, which is an electric infrared heater. The heater is safe, there is no hot heating element that can catch fire.
It is electric heat, and electric heat is 'supposed to be' inefficient. However, the Comfort Furnace electric heater does not heat like traditional space heaters. This efficient space heater costs about one dollar a day to run. This electric infrared heater has 35-50% more heating efficiency than base board heaters. Infrared heaters not only warm people, they warm objects, so the heat is radiated throughout the room.
Unlike most heaters which have uneven hot spots, this is an infrared heater so the heat surrounds you. It works the way the sun heats – providing a soft, convection-like heat. Comfort Furnace heats the air through infrared heating elements. This heated air is then directed back into the indoor environment by fans – through a grill on the front of the unit. This makes a heat that is balanced between floor and ceiling by no more than a few degrees difference.
Now, our basement room is warm and cozy, the upstairs is heated with a gas fireplace insert, and our furnace never turns on. For more information on whole home heating solutions, contact West Sport.