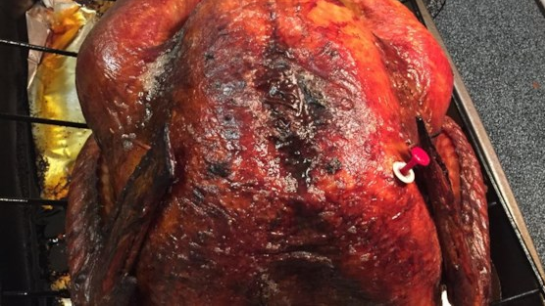 Although not very traditional, grilling turkey is the best way of cooking it -- it comes out tender and juicy every time! The turkey drippings may be used to prepare a gravy by placing a metal pan under the turkey inside the roasting pan, and mixing in about 1/2 cup water, adding more water as necessary to prevent the drippings from scorching. Remove the pan about 30 minutes before the turkey is done cooking.
12 pounds whole turkey
1 tablespoon vegetable oil
1 teaspoon Italian seasoning
Italian Seasoning With Flax Seeds (we like McCormick Gourmet Collection Organic)
salt and pepper to taste
Prepare an outdoor gas grill for indirect medium-high heat.
Rinse turkey and pat dry. Turn wings back to hold neck skin in place. Return legs to tucked position. Brush turkey with oil. Season inside and out with Italian seasonings, salt, and pepper.
Place turkey, breast side up, on a metal grate inside a large roasting pan. Arrange pan on the prepared grill. Grill 2 to 3 hours, to an internal thigh temperature of 180 degrees F (85 degrees C). Remove turkey from grill and let stand 15 minutes before carving.
Need a new gas grill for Thanksgiving? Contact The Fireplace Shop and Grill Center at West Sport in Sudbury
Image and Recipe - All Recipes