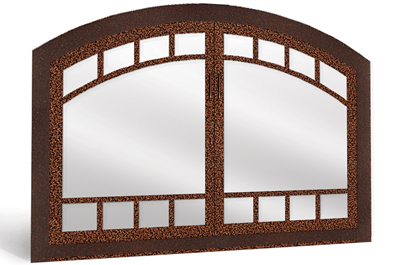 It is important that as a homeowner you make the right purchase when it comes to glass fireplace doors. There are many reasons why you should purchase doors for an open fireplace and all those reason should come into consideration while you're making your decision. At West Sport in Sudbury, we sell quite a few sets of glass fireplace doors, and we talk to a lot of homeowners in the area about them. If you are a homeowner that has been wondering what all the fuss is about and what the benefits are of purchasing and installing fireplace doors; here are your answers.
Benefits:
1. SAFETY
Fireplace Doors create a strong barrier between a hot, dangerous fireplace and your children and pets. This isn't just the case when the fire is burning. You don't want your kid putting their hand into hot ashes left over from a fire and you don't want your cat to think that it has found a new litter box.
Fireplace Doors also protect your home from the sparks and embers that could escape from the fireplace and burn your carpet or wood floor.
As a side note: the tempered glass that is used for the fireplace door is considered to be safety glass. If it were to break it would shatter into millions of fragments rather than breaking into a few sharp, jagged pieces, making it more difficult to be cut.
2. EFFICIENCY
Glass Fireplace Doors create a thermal barrier between your room's conditioned air and the outside world. Think about this; you spend hundreds of dollars throughout the winter heating your home and then you have a 36" square hole in the middle of your living room where that conditioned air can escape.
Now, most of the fireplaces have a throat damper. This little contraption does help. It is located at the top of the firebox and closes the flue – but…it is made of metal and has no seal (it can't – the seal would be too close to the fire and burn up). So there are all kinds of gaps and spaces where that air is escaping – OR – the cold wind is blowing down the chimney and into the room.
Something else to consider is the efficiency you gain by burning a fire with the doors closed. This will increase your fireplaces efficiency because you will use less conditioned air to feed the fire and you will still realize the benefit of the radiant heat from the fireplace.
3. DECORATIVE
Gone are the days of the gold and brass finishes being your only option when it comes to your fireplace door. With the advent of powder coat finishes, a host of modern finish options are available to you. The draft assembly of the door used to be masked by a filigree – but the 1970's called and asked for it back. Now the draft assembly is hidden so it does not take away from the design of the door. Very creative patterns can be laser cut into sheets of steel to create any type of fireplace door you can imagine.
For more information on glass fireplace doors contact West Sport in Sudbury.
fireplacedoorsguide.com