Advantages of Having a Fire Pit Table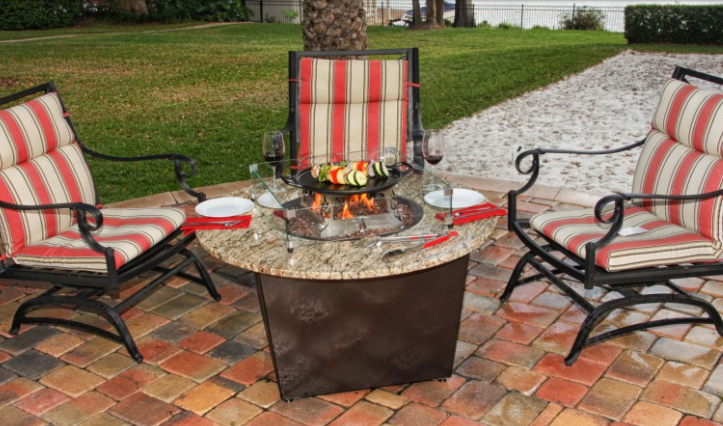 Nothing beats spending quality time with your family and loved ones. Lovely times are more exciting in outdoor spaces with enhancements like Fire Pit Tables. Asides from the warmth that can be derived from these wonderful outdoor pieces, there are several other advantages and we will quickly consider some very important ones below.
Provide Outdoor Warmth
Cold nights can be terrible. This is even made worse when you try to spend some time outdoors. With the Fire Pit Table, you will be able to remain warm even in the cooler fall season.
Light Up The Night
No matter how safe your surrounding is, you will cherish some lightning during the dark hours. With the Fire Table, you can see your surroundings clearly even when the moon is not there.
Visually Appealing
Unlike light bulbs, Fire Pit Tables are not just about their light: they have some sort of visual appeal that can create a cozy outdoor atmosphere. They also come in various wonderful and appealing designs.
Help You to Relax
Your intentions of using Fire Pit Table may be to obtain warm, but the burning fire can also have relaxation effects that will benefit you as you stare at the flame. There are suggestions that they can even help to reduce blood pressure.
Safe to Use
With Outdoor Fire Pit Tables, the likelihood of any ugly incidence is greatly reduced. You can also control the level of the fire for improved safety.
Can Be Used At All Time of the Year
An outdoor fire is suitable all year round, so whenever you are ready to relax outside with your Fire Pit Table, you can do just that.
Portable
These are not such heavy equipment that you may have to abandon if you are moving to a new house. If the occasion arises, you can easily move your table with you.
Performs Multiple Functions
The truth is that you may end up using your table more for reasons other than the main reason you purchased it. These wonderful Fire Tables can be used to cook, to keep warm, to light up your outdoor space, and also to place food.
There you have it! The above are some of the advantages of having fire pit tables. These fire pit tables bring a sign of class into your backyard or patio and help in transforming the place. There simplicity and uniqueness makes the gas firepit tables and outdoor hibachi a great method to compliment your outdoors.
Are you looking for the perfect way to make your outdoor beautiful? In case you will like to make the outdoors and backyard of your home inspiring and breathtaking, Fire Pit Tables remain the perfect way to achieve that. These firepit pit tables are very fascinating. They are guaranteed to give your outdoors and backyard the extraordinary look you always desired. Remember to get your Gas Fire Pit Tables and outdoor hibachi today!
For more information on the sale on Gas Fire Tables, contact The Fireplace Shop and Grill Center at West Sport.
Our Tables are Catching Fire!