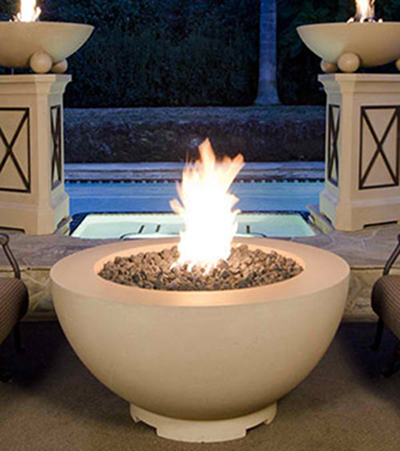 The backyard isn't closed, make it gorgeous by adding fire. Homeowners all over Massachusetts have come to realize the allure of fire in their backyards. American Fyre Designs firetables are available in a variety of styles to complement any decor.
These Firetables create the perfect ambiance for enjoying an outdoor meal or cocktail while also keeping you warm from the evening chill.
Fuel options include Natural Gas or self- contained Propane tank (most include a removable door to house a 5-gallon propane tank). Handcrafted from glass fiber reinforced concrete.
The Reclaimed Wood Collection features two table-top styles, a rustic French Barrel Oak finish (FO) and a weathered Silver Pine finish (SP), with two contemporary base options, the Cosmopolitan tapered style and the low profile Contempo style.
Both options feature the Black Lava finishand black burner pans providing a uniquely rustic look to any decor.
Right now at The Fireplace Shop and Grill Center at West Sport get $250 off an American Fyre Designs Round, Square, or Rectangle Reclaimed Wood Cosmo Fire Table. Get even more savings by taking advantage of Tax Free Weekend!