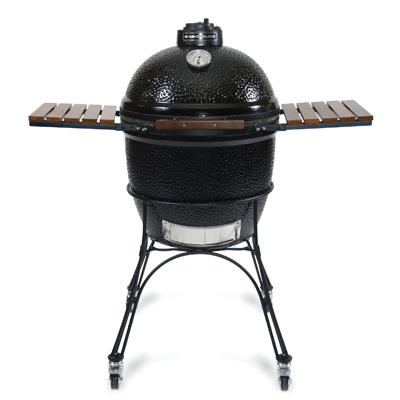 Outdoor cooking remains more popular and easier than ever. In fact, the majority of Americans claim that some elements of cooking outdoors are even easier than cooking indoors and that they prefer cooking out over eating out, according to HPBA National Barbecue Month (NBM) Poll results.
Outdoor grilling is a very popular pastime that unites friends and family with great tasting food that's easy and affordable. Sixty-four percent of adults agree, reporting that a barbecue is a better way to spend quality-time with their friends or relatives. And more than a third of adults associate barbecues with family tradition.
That's why May is National Barbecue Month - there's no better way to celebrate than taking it outdoors for a cookout with friends or family!
According to poll results, Americans see grilling and outdoor cooking as the ticket to an easy, delicious meal and a healthier lifestyle:
Easy Does it. 81% of Americans report that at least one aspect of grilling outside is easier than cooking indoors. The most convenient parts are cited as cleanup followed by the cooking process itself
Cooking Out Trumps Eating Out. The majority of adults agree that cooking out is more fun and relaxing than dining out and beneficial for avoiding travel, dress codes and crowds.
Healthier Choice. Seventy percent of Americans say cooking out gets them in a healthier routine, specifically by encouraging time spent outdoors instead of cooped up in the house. Outdoor cooking also encourages adults to make smarter food choices such as eating fresh rather than frozen foods and cooking healthier food on the grill overall .
Got-to-have Gadgets. Accessories make already-convenient outdoor cooking even easier. When it comes to the go-to tools, Americans report top usage of:
tongs (77%),
spatula or brush (65%),
rubs and marinades (62%),
skewers (37%), and
baskets (20%).
Need a new outdoor grill for National BBQ month? Contact West Sport in Sudbury for everything you need to know about outdoor gas grills, charcoal grills, keg style grills, pellet grill and smokers and outdoor kitchens and all the grilling accessories you need!
hpba.org