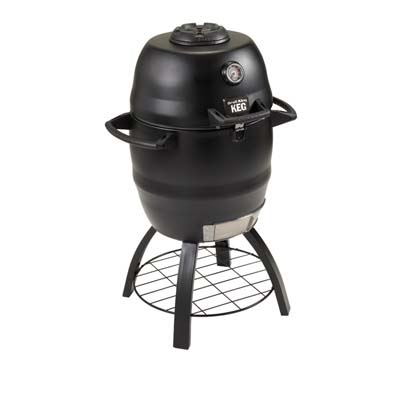 This weekend is Father's Day. Are you still looking for the perfect gift for the father in your life, husband, dad, grandpa. How about a new gas grill or new charcoal grill for his space where he reigns outdoors. The keg style charcoal grill by Broil King is fun and unique. When you see it, you'll agree that it has style, just like dad.
Finding the perfect Father's Day gift for the man who has it all can be challenging. However, even if he already has a gas grill, a charcoal grill is the perfect addition. Especially since he loves to grill! Now he will have a grill for every style and every food. A new charcoal grill is the perfect addition to dad's outdoor grilling space.
The Broil King Keg is a charcoal grill that also works as a smoker, oven, and high heat roaster. This grill can cook at temperatures from 200 degrees to over 700 degrees. If dad loves to grill, then nothing beats the Broil King Keg charcoal grills. These grills use hard wood charcoal which gives great taste to any food. And, they are kamado style grills so dad can slow cook and sear. The keg charcoal grill is perfect grill for an experienced griller or for someone who is just beginning.
Show dad that he is special this Father's Day and give him the perfect gift. Dads love to grill and relax outdoors. Add to it his outdoor space with a new charcoal grill.
For the perfect Father's Day gift and to take advantage of our June special on the Keg charcoal grill, contact West Sport in Sudbury.