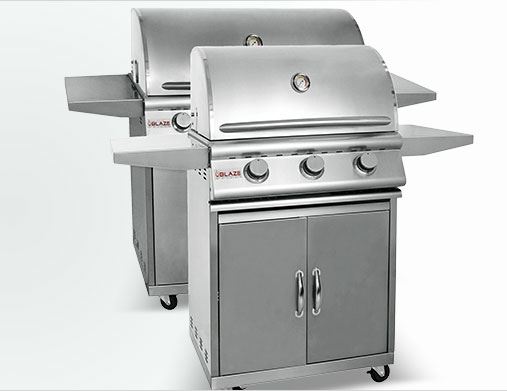 This weekend is Father's Day. Are you still looking for the perfect gift? How about a new Blaze gas grill for his patio or deck? Blaze Gas Grills offer a combination of solid engineering, quality stainless steel construction, and commercial-grade cast stainless steel burners to help ensure that it will last for years and provide maximum performance. This gas grill has style, just like dad.
Finding the perfect gift for the man who has it all can be challenging. Even if he already has a grill, a new one may be in order. Especially since he loves to grill! A new grill is the perfect addition to dad's outdoor grilling space.
It is important for dads to have a high quality, outdoor living space that they can truly enjoy. To many, the ultimate summer entertainment activity is a big picnic with family and friends while cooking great food on the grill. Whether he wants to feed the family or the neighborhood, the Blaze gas grill is the perfect grill for the dad in your life. It doesn't matter if he is new to grilling or a seasoned expert. This grill will fit any skill set to get the most out of cooking.
Show dad that he is special this Father's Day and give him the perfect gift. Dads love to grill and relax outdoors. Make his patio area even more enjoyable this summer. For the perfect Father's Day gift and to take advantage of our June special on the Blaze Gas grills, contact The Fireplace Shop and Grill Center at West Sport in Sudbury.